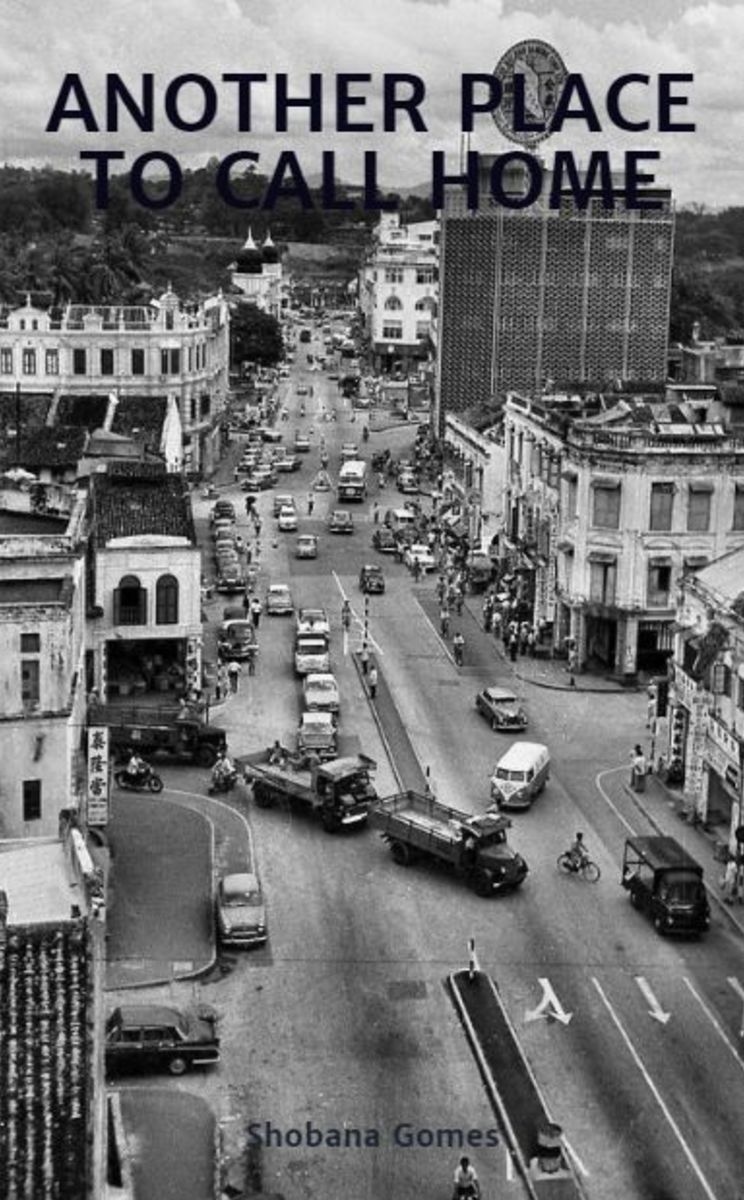 Do you believe in arranged marriages? What do you think of it? Well, I wrote this story about a girl from India who leaves her home country to marry a total stranger from Malaysia. The wedding is an arranged one, and here is an excerpt of it.
~~~
She heard a rumor that she was to be married off to someone from Malaysia. Walking back home from school one day, Aruna was teased by her schoolmates about this bit of news they had heard.
A relative who attended the same school with her had mentioned it to a friend, who in turn told another friend, and soon it became a hot topic of conversation in school, without reservation, it spread like wildfire to the whole housing colony where they lived.
The news surprised Aruna tremendously. Were they talking about her? If they were, she hadn't heard of it, till then. How was it that the relative was more informed about the proposal than she was?
It was a life-changing matter for her. One that didn't amuse her one bit, not to mention how everyone else knew about it even before she did! Who was this man she was supposed to get married to?
According to Aruna's relative, the boy's mother had spoken to her elder brother, asking for her hand in marriage.
Her elder brother had agreed without hesitation. He thought it best in her interest to marry her off to a family of wealth and good reputation, and have her migrate to a land of great opportunity that held a promising bright future.
Moreover, their elder sister was married to a Malaysian, and lived a happy, luxurious life there.
Malaysia – held in great esteem, renowned as a favorite destination for migrants because of its economic progress during an era that saw its inception as an independent Country, was a land of job opportunities, and trade.
Immigrants from India were flocking there to create a better future for themselves, and to make it their permanent home.
It is an honor to have someone ask for her hand in marriage, especially someone from a promising land like Malaysia, her brother told Aruna, when he finally spoke to her at length about the proposal.
"Think about it Aruna, you will be living close to our elder sister who is living a life of wealth and prosperity, who has a wonderful man for a husband. I am sure the boy you are going to marry is the same," her brother had consoled her, when he saw the stark fear of getting married reflect in her eyes.
He had a good job in the government sector, so she had nothing to worry about, as she was assured of a good secure life, were his parting words to her before he left for work that day.
Aruna didn't really listen fully to what her brother said. She only listened to bits and pieces of his conversation with her, and even then, vaguely. She was still trying to come to terms about her proposal from a total stranger.
She was not in any way interested to hear about the man she was due to be betrothed to, although common sense prevailed.
She knew that it was in her best interest that she had a little knowledge about what "the boy" does, and get to know something about his background.
She cried bitterly after her brother left for work, deciding to speak to him when he got back that evening about her reservations of marrying a totally unknown person, not to mention, moving away from the rest of the family in India, quite shockingly giving up her education in favor of a good proposal.
Aruna was sure that there would be other suitors like him who would ask for her hand in marriage, at an appropriate time when she was ready to get married.
She really couldn't believe what was happening to her. It was always someone else that she heard about, some other girl from another family whose marriage was arranged, so she was at a loss at how to accept a proposal, when not ready to get married!
After dinner that night, she approached her brother a little warily about her reservations.
"Chetan, I don't want to get married now. I don't think it is the right time for me because I have not finished my degree yet.
Not only that, I think I am a little too young to get married in the first place, and I don't want to leave all of you here or leave India for that matter, to move so far away, or make a foreign land my home, that too, by marrying a total stranger. I am really scared about the whole thing." As she laboriously finished her sentence, she felt tears sting her eyes.
Her brother listened, while turning the pages of the newspaper he was reading, totally disinterested at her point of view in the matter. He saw her fidgeting a little, while waiting for him to say something to her, so he put the papers down before continuing in a coaxing manner.
"I have already agreed to the proposal Aruna. As you know when I give my word, I don't like to go back on it. This is a chance of a lifetime for you. You must understand that I had your best interest at heart when I agreed to the proposal."
He saw the tears that Aruna tried hard to hold back, spill at that moment. Telling her gently not to cry, he continued,
"Your elder sister and brother-in law find the boy a very good match for you.
They were approached first with the proposal by the boy's mother in Malaysia, before his mother came down to India to ask for your hand. I know you haven't finished your studies, but then you can always continue after you get married, can't you, if it means so much to you, not only that in India girls are married off to good suitors at your age.
Age shouldn't be an issue. Further more, how do you know that you will not like the boy or like to live in a Country like Malaysia, if you haven't met him or experienced living there?
God has blessed you with a chance like this Aruna. You should be grateful, and accept it in good faith. Unfortunately, there is nothing you can say or do to change my decision. All the arrangements have been made for you to leave to Malaysia soon."
Aruna sobbed loudly, running to her room after hearing what her brother had to say to her.
Before that, she tried pleading again with him not to send her away. She was only sixteen. She wanted to stay in India – her birthplace. She wanted to continue her studies. How could she leave her studies halfway? How could she be separated from the rest of her family members in India? She would miss them terribly, plus wouldn't they miss her in return? She would especially miss her best friend, Nila! They were supposed to graduate together, maybe even get married some day, and live next to each other!
Read the full text here https://www.inkitt.com/stories/adventure/231765. With a little bit of humor to tickle your senses, Aruna will surely touch hearts. (5 star review on Inkitt)
All rights reserved.Copyright@shobana2019